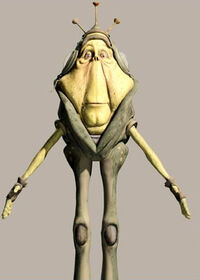 Canon Backstory
Edit
Ben Quadinaros was a Toong podracer who participated in the Boonta Eve Classic in Star Wars: Episode 1 - The Phantom Menace. He was unable to start his pod due a mechanical malfunction and it eventually exploded. He has since appeared in the Star Wars: The Clone Wars: Crash Course Comic.
The Clone Wars PitchEdit
During an interview with The ForceCast, Fanboys director Kyle Newman stated that he had deep hatred for Quadinaros, calling him "the worst designed character in the history of Star Wars." At Celebration V in August 2010, he put out the challenge to anyone at a panel with The Clone Wars Supervising Director Dave Filoni to ask Filoni if Quadinaros would appear in Season 3 of The Clone Wars.
The gag was very popular and Filoni was asked about Quadinaros at every panel on which he appeared. Even at The Clone Wars press conference, friend of The ForceCast Steve Glosson asked Filoni about Quadinaros. Filoni warned that if people kept asking to see Quadinaros, Lucasfilm might get the mistaken idea that people actually wanted to see him in the show, and he (Filoni) would be forced to include the character.
Following Celebration V, Star Wars Insider published an interview with Filoni and George Lucas about The Clone Wars Season 3. A sidebar in the article featured a picture of Quadinaros and the caption "Where is Ben Quadinaros?". The sidebar explained Newman's gag and provided Filoni's answer to the question. According to Filoni on a January 2010 episode of The Weekly ForceCast, he has not yet received a story pitch involving Ben Quadinaros.
Other jokes
Edit
Quadinaros's peculiar character design was the subject of an April Fools' Day prank on TheForce.Net. The story, which announced a new TV show entitled Star Wars: The Adventures of Ben Quadinaros, included this quote from director Rob Coleman: "Something about the way he was designed really connects to today's audience. His simplicity, distinctive shape and lines just feel more modern and street."
External Links
Edit
Community content is available under
CC-BY-SA
unless otherwise noted.