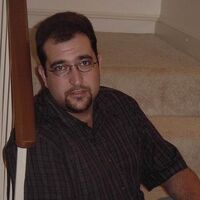 Erik Blythe is best known as the ForceCast network director, a co-host of The ForceCast and The Outer Rim, and the lead host of The Sabacc Table and Echo Base.
About a week before The ForceCast (network) closed its doors on March 12, 2016, Erik has rebooted the RandomChatter Podcast Network along with former The ForceCast (network) hosts Lou Secki, Chris McGuffin, and current Jedi Journals host Jay Shepard. The Echo Base, The Outer Rim, and The Sabacc Table shows also went to the RandomChatter Podcast Network.
Blythe joined the staff of TheForce.Net in January 2013. Along with TFN Social Media Director Eric Geller, he helped relaunch The ForceCast after the departure of the network's former hosts. In July 2013, he helped start the ForceCast network's first gaming show, The Sabacc Table, with fellow podcasters Nate Nelson and Louis Secki. In June 2014, he helped launch the network's Echo Base program for water-cooler discussion, along with co-hosts Eric Geller, Justin Bolger, and Louis Secki.
Blythe was the sole host of the original, award-winning podcast for TheForce.Net back in 2005. Since then, he has been running a podcast network at RandomChatter.com focusing on movies, television, and technology. Aside from Star Wars, he is also an avid fan of LOST, Babylon 5, The Walking Dead, the recent reboot of Doctor Who, and science fiction in general. Blythe is also a big fan of the Star Wars Expanded Universe, preferring stories that take place after the original films.
External links
[
]