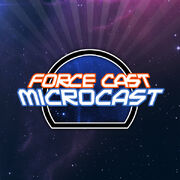 ForceCast Microcasts are essentially ForceCast "mini-series," released irregularly when an opportunity for content arises (in contrast to regularly-scheduled programs like The ForceCast). Microcasts are distinct from ForceCast Specials in that they do not feature interviews or event reports.
Examples of Microcasts
Edit
In The Cantina
Edit
Interviews (often long ones) with Star Wars celebrities and newsmakers were usually released as standalone In The Cantina Microcasts. They are also occasionally integrated into The Weekly ForceCast as segments. In The Cantina interviews are almost always recorded in person (at conventions, screenings, or other events) and released later. By contrast, interviews that appear on The Weekly ForceCast may be recorded in person (and then aired later) or conducted live via Skype during the weekly show.
Jay Shepard explored the EU in this Microcast, which was the predecessor to his Jedi Journals program.
The ForceCast: Collector's Edition
Edit
Launched on: September 17, 2010 | Last episode: March 1, 2012
The ForceCast: Collector's Edition was The ForceCast's monthly Star Wars collecting program. It was hosted by Dan Curto and JediNews.co.uk's James Burns. The show focused primarily on Hasbro's 3 3/4" figures and vehicles, but Curto and Burns also covered products from Sideshow, Gentle Giant, Kotobukiya, and other collectible companies. In addition to discussions of the latest product announcements and releases, The ForceCast: Collector's Edition featured interviews with notable people in the collecting community and convention coverage from shows like the U.S. Toy Fair.
The ForceCast Collector's Edition Spotlight
Edit
This special Collector's Edition mini-series spotlighted the personal collections of prominent members of the Star Wars community, such as Hasbro's Derryl DePriest and Fanboys director Kyle Newman.
Full articles for ForceCast Microcasts can be found here.
External links
Edit
Community content is available under
CC-BY-SA
unless otherwise noted.