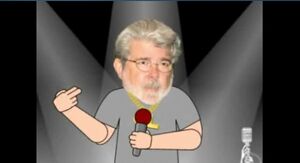 "George Lucas Hip Hop Awards" is the name of The ForceCast's multiple-award-winning entry in the 2008 Atom Star Wars Fan Movie Challenge.
Jason Swank and Jimmy Mac (Current Rebel Force Radio hosts) produced the rap that inspired the video in response to a story on The Weekly ForceCast. The story reported that George Lucas had been spotted at the Hip-Hop Summit Action Network's 2008 awards dinner. Swank provided the voice of Lucas in the rap, and has since used this voice during many stories involving Lucas. Swank and McInerney then worked with Mark and Kay Minckiewicz from the FCTV video series to produce a video version of the rap, which they submitted to Atom.
The awards ceremony was held on Friday, July 25, 2008 at San Diego Comic-Con, where Dan Curto was reporting for Rebelscum.com. "George Lucas Hip Hop Awards" won in the "Best Animated Feature" and "Audience Choice" categories, which were presented by Dave Filoni and Kyle Newman respectively. When the winners were announced, Curto called Swank to let him know that they had won and then promptly hung up to continue covering the event. The FCTV-ForceCast team received two trophies. One trophy resides with Swank at the ForceCast studio in Ohio and the other currently sits in McInerney's Star Wars room at his home in Chicago.
During an interview with McInerney at a Chicago event, George Lucas himself revealed that he had seen the video and called it "very good."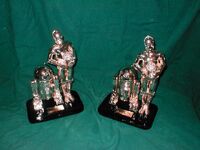 Executive Producer: Jimmy Mac
Producer: Kay & Mark Minckiewicz
Directors: Kay & Mark Minckiewicz
Writer: Jimmy Mac
Cast: Jason Swank
Yo, yo, yo
This is the Notorious GL
What up dogs? Word.

I'm back from the Ranch, lightsaber in my like a shit dick pocket 
Jump into my X-wing, take off like a rocket
A ton in the bank, Melody on my arm
Death Star's approaching, so raise the alarm!

Fighting with the critics over Howard the Duck
I read their reviews, I said, "What the f**k!"
I hipped and I hopped, with Jar Jar and Mace
Greedo shot first, so in your face!

I hope some day I win a hip hop award
I like to play with my laser sword
I'm taking off, I think we're set
To get some gin and juice with Boba Fett

Punch it
So wizard
GL...out.
External links
Edit
Community content is available under
CC-BY-SA
unless otherwise noted.